Spanish Wells Info.
Spanish Wells Bahamas Vacation Rentals : Spanish Wells Bahamas vacation rentals, Spanish Wells Bahamas holiday lettings, Spanish Wells Bahamas boat rentals and golf cart rentals in beautiful Spanish Wells Bahamas : Bahamas for rent by owner
Spanish Wells

Bahamas

Information and Tips for Visitors : a visitors guide to Spanish Wells Bahamas vacation rentals, Spanish Wells Bahamas boat rentals, Spanish Wells Bahamas golf cart rentals, Spanish Wells Bahamas real estate, Spanish Wells Bahamas property management, and more...
Spanish Wells is the town on small St. George's Cay, just off the northwest coast of Eleuthera. A small bridge connects Spanish Wells, Eleuthera to its closest neighbour, Russell Island, Eleuthera. The population of these cays is predominantly white native Bahamians (many of which are descendants of the first British settlers from the 1600's or Loyalists from the 1700's). Spanish Wells Bahamas is a neat and clean little town with most homes sporting a fresh coat of pastel paint, a real island getaway. Locals leave their doors unlocked; in this small, tight-knit community, crime is nonexistent. The local language is English, spoken with a somewhat British accent.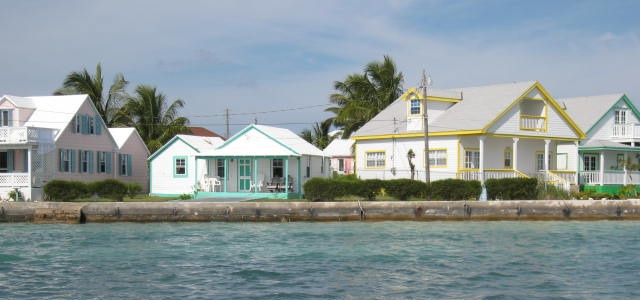 Spanish Wells is reminiscent of an idyllic Cape Cod fishing village with swaying coconut palm trees and bright bougainvillea as background. Winding little roads lead a visitor around brightly painted cottages sporting gables and wooden shutters. One can walk around the island, wade for sand dollars on the north beach, purchase the fresh catch of the day from local fishermen, and browse the centuries-old village. Spanish Wells is prosperous, clean, safe, and beautiful, and real estate in Spanish Wells has been shown to be an excellent investment.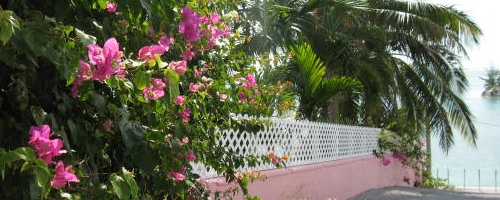 Many of the people in Spanish Wells earn their living from the sea. These fishermen have the best reputation in the entire Bahamas for their skill at catching crawfish (spiny lobsters). Spanish Wells is known as the fishing capital of the Bahamas, and this little island exports more lobsters than all the rest of the Bahamas combined.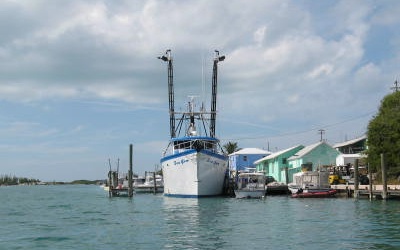 Spanish Wells has beautiful pink and white sand beaches, and water so clear that you can see your shadow on the bottom. Stretching from Spanish Wells to the northeast tip of mainland Eleuthera is a beautiful barrier reef called the Devil's Backbone which is inhabited with an abundance of marine life. This area is fantastic for snorkelers, and fishermen usually find that grouper and snapper are plentiful in this area. One mile off shore, there's great sport fishing. There's world-class bone fishing on the flats surrounding the island. Boat rentals, golf c
art
rentals, bicycle rentals, fishing ch
art
ers, snorkeling trips, cave tours, "x-rated" picnic trips to uninhabited islands or beaches, and trips to nearby islands (such as Harbour Island) are available.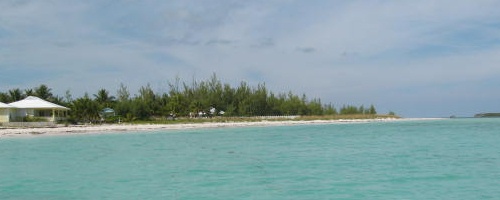 Spanish Wells offers three supermarkets (Spanish Wells Food Fair being the largest grocery store in all of the Eleutheras), two bakeries (you must try Bahamian homemade bread and Johnny cake), six restaurants (which serve native Bahamian and American dishes at reasonable prices), a well stocked liquor store, a medical clinic, a museum, four variety stores, a new nautilus gym, and you can purchase fresh conchs, fish or lobsters (in season) at the docks or marinas. If you'd like to explore the length of the mainland of Eleuthera there are tour guides available for hire or self-drive cars available for rent. Winter temperatures are generally in the 70's during the day and drop to the 60's at night. Summer daytime temperatures are generally in the 80's and drop to the 70's at night. Spanish Wells is not a "touristy" island. Arrive as guests and leave as friends.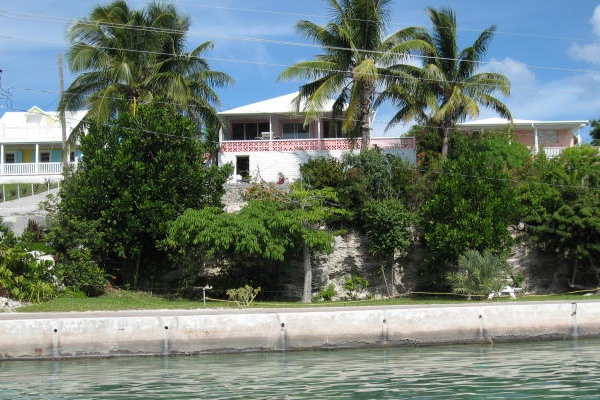 "If asked to name a place in the Bahamas where pioneer blood is most concentrated, one would have to say Spanish Wells. Few Loyalists were attracted there, and the physical features of the all-white population reflect those of the Eleutheran Adventurers who waded ashore, a few miles away, three and a quarter centuries ago.

There is absolutely nothing like Spanish Wells in all the Bahamas today. A town of exquisite cleanness and beauty nestles beside a harbour which is a beehive of maritime activity. The fishing fleet, headquartered there, is the finest in the nation. Tourism has come to the island but plays a minor role. The 1,600 people who live there have raised themselves to a prosperous level by applying hard work to the oldest and most basic of Bahamian industries, fishing and farming." - The Story of the Bahamas
Spanish Wells/Russell Island is proud of its privately run electricity company. Spanish Wells/Russell Island has a steady supply of electricity unlike other areas of the Bahamas that rely on the government electricity company and are used to frequent brown outs or black outs.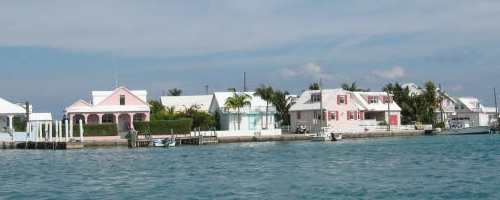 The local Bahamian residents of Spanish Wells number about 1600. Many Spanish Wells locals have married persons from Nassau, Abaco, mainland Eleuthera, Harbour Island, the United States, and Europe who all now call Spanish Wells or Russell Island their home. There are also a significant number of Americans, Canadians, and Europeans that own winter homes and vacation cottages in Spanish Wells or Russell Island, and a small but growing number have decided to reside in Paradise year round. All love the traditional small town fishing village atmosphere of Spanish Wells and strive to keep it that way.
Spanish Wells is considered one of most quaint, clean, and prosperous islands in the
Bahamas
.

It offers a rich history and old world and out island charm, and, yet, is very civilized.
Spanish Wells is the envy of Eleuthera, The Bahamas, and even the region. This informative news article will explain why - click here to view http://www.sidsnet.org/archives/other-newswire/2003/msg00554.html (This article, however, states that there are 1527 inhabitants in Spanish Wells, which makes it a very dense population. However, the 1527 inhabitants are in Spanish Wells and Russell Island, which is considered one community, but more than double the land mass. Russell Island is larger than Spanish Wells, thus, the population is not very dense. One can walk the 2.5 mile long beach and usually only see five to ten other persons on the entire beach. )
The Bahamian government reports, " A $500,000,000 investment for Royal Island will be an excellent development for North Eleuthera. Developers propose to build high-end, single-family estate sites with ocean views nestled within private enclaves, a luxury boutique resort, deluxe spa, fine dining and casual restaurants, a marina for yachts of up to 200 feet in length, and a Jack Nicklaus designed golf course on Royal Island, which is located less than a five minute boat ride from Spanish Wells. Royal Island will become known as the ultimate destination for those individuals looking to retreat to the most exclusive resort and private estates in the Bahamas." Celebrity investors involved with the Royal Island project include Roger Staubach, Emmitt Smith, Greg Norman, Jack Nicklaus and others. Greg Norman says, "Today, the possibilities for investing in the Bahamas and the Caribbean are better than ever." Read Greg Norman's article in Travel & Leisure magazine by clicking here http://www.travelandleisure.com/tlgolf/articles/golf-my-blue-heaven/
Jack Nicklaus says, " Our family has fished in the Eleuthera area for many years, and it is one of my favorite parts of the Bahamas to visit... there exists a perfect combination of privacy and convenience." Read the full press release here http://www.nicklaus.com/design/101006.php
To start a wonderful Spanish Wells Bahamas vacation, click here and pick the Spanish Wells Bahamas vacation villa rental that best suits your needs: http://www.bahamasvacationhomes.com/harbour_island_spanish_wells_rentals.html
Spanish Wells Eleuthera Bahamas - golf cart rentals - boat rentals
Other Optional weekly golf cart rentals and boat rentals available in Spanish Wells/Russell Island/North Eleuthera:
-Golf Cart rentals $220/wk. and up. Best golf cart deals in Spanish Wells. Discounts offered for longer golf cart rentals and multiple golf cart rentals. Free pick up and delivery of your golf cart rental to and from your rental villa or to any other location that you choose. Free maps. Call today to reserve your golf cart rentals, ph. (242) 333-4080, or for more golf cart info. e-mail: info@bahamasvacationhomes.com

-14' Whaler boat w/motor & bimini top rentals (refundable damage deposit of $200 cash required before taking possession.) $495/wk.
-15' boat rentals (refundable damage deposit of $300 cash required before taking possession.) $595/wk.
-17' Center Console boat w/bimini top rentals (refundable damage deposit of $300 cash required before taking possession.) $695/wk.
-18 ' Center Console boat w/bimini top rentals (refundable damage deposit of $300 cash required before taking possession. ) $795/wk.
-22' Center Console boat w/bimini top rentals (refundable damage deposit of $500 cash required before taking possession. ) $895/wk.
Make Bahamas Vacation Homes your one stop shop for Spanish Wells vacation rentals, boat rentals, and golf cart rentals.
All golf cart rental and boat rental fees include free pick up and delivery to any Spanish Wells, Russell Island, or North Eleuthera locations, free instructions, and free nautical maps. Renters will be required to pay for any gas and oil used.
Please indicate the amount of payment sent for any of the optional weekly rentals that you would like to reserve for your stay on the bottom of the rental agreement for your villa. A 50% deposit is required to hold a reservation; the full balance is due 60 days prior to the rental. (It's best to reserve a boat rental and a golf cart rental at the same time as your vacation villa rental; otherwise, you may find that it is not available when you arrive.)

How to get to Spanish Wells, Eleuthera, Bahamas
:
These airlines fly into North Eleuthera Airport (ELH) daily:
From Florida:
American Airlines: www.aa.com
Lynx Air - Ph. 954-772-9808, www.lynxair.com
Twin Air - Ph. 954-359-8266, www.flytwinair.com
Continental - Ph. 800-523-3273, www.continental.com
Yellow Air Taxi – Ph. 888-Yellow-4, www.flyyellowairtaxi.com
From
Nassau
,
Bahamas
:
Bahamasair, Ph. 800-222-4262, www.bahamasair.com
Southern Air/GHL Agency, Ph. 242-323-7217, Ph. 242-377-2014, www.southernaircharter.com
Or, one may take the Bahamas Fast Ferry from Nassau, Bahamas to Spanish Wells, Bahamas:
Ph. 242-323-2166, www.bahamasferries.com
Helpful Hints:
- Currently, Bahamas customs allows each visitor to bring in $100 of duty-free items for personal consumption. However, fresh fruits and vegetables are not allowed to be brought into the country.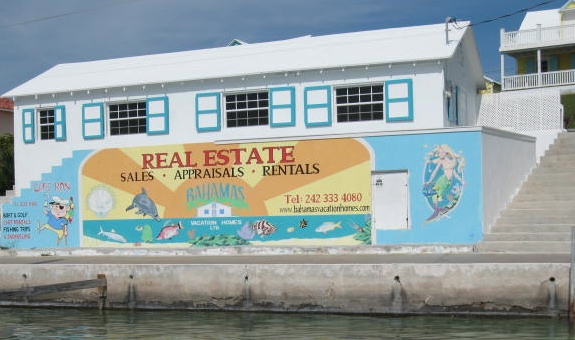 Most of our visitors enjoy the beaches, the fishing, the diving, and, then, want to look at the real estate available. You may view some of the real estate offerings on this web site by clicking the link "Real Estate For Sale", http://www.bahamasvacationhomes.com/real_estate_eleuthera_spanish_wells.html
Or when in Spanish Wells, stop by Bahamas Vacation Homes, Ltd. real estate office on the harbour and 11th Street in Spanish Wells for up-to-date real estate information. All good real estate investors know that a good time to purchase real estate is when it is still affordable and rapidly appreciating.
Bahamas Vacation Homes, Ltd is the most experienced rental, real estate, and property management company in Spanish Wells / Russell Island /North Eleuthera. We have been serving the area for more than 16 years.
Interested in Florida real estate properties for sale and rentals? Try www.marvin-group.com
Try Spanish Wells Bahamas for your next vacation. You'll be glad you did.
Spanish Wells Bahamas Vacation Rentals - boat rentals - golf cart rentals - Spanish Wells North Eleuthera Bahamas
Bahamas Vacation Homes, Ltd.

Bahamas Real Estate Sales
&
Bahamas Vacation Rentals
P.O. Box EL-27600, Spanish Wells, Eleuthera, Bahamas
Phone & Fax: 242-333-4080
Office: Harbour & 11th Street, Spanish Wells Eleuthera Bahamas
We are the only real estate office in Spanish Wells / North Eleuthera Bahamas
Please complete our
Online Information Request Form