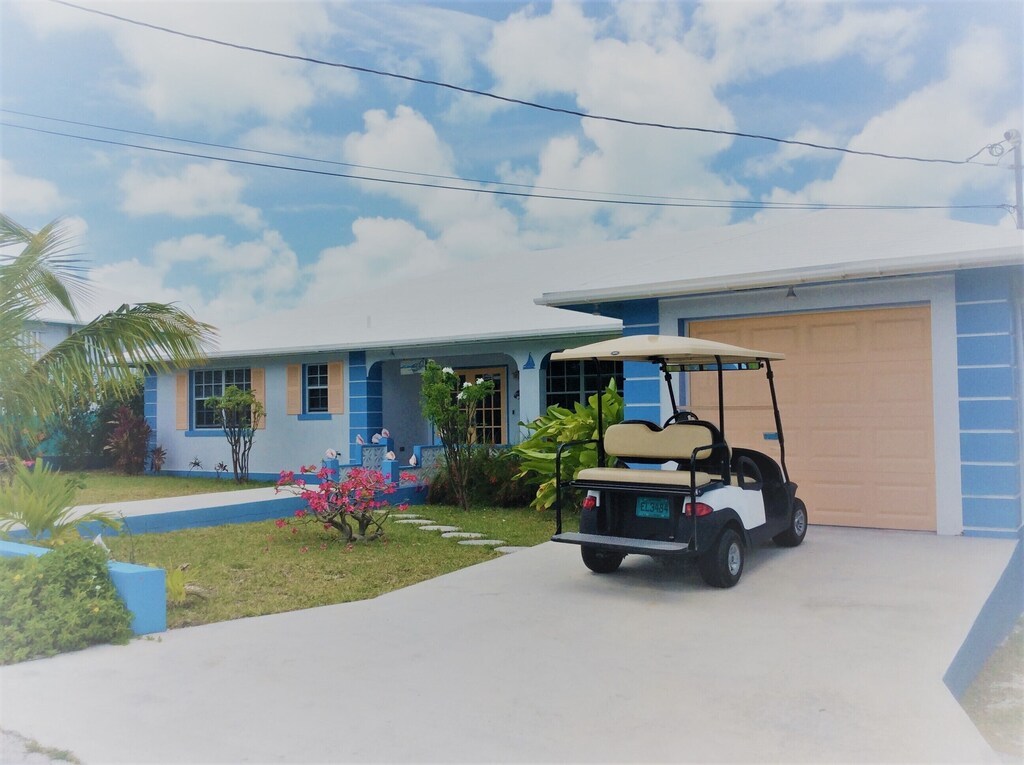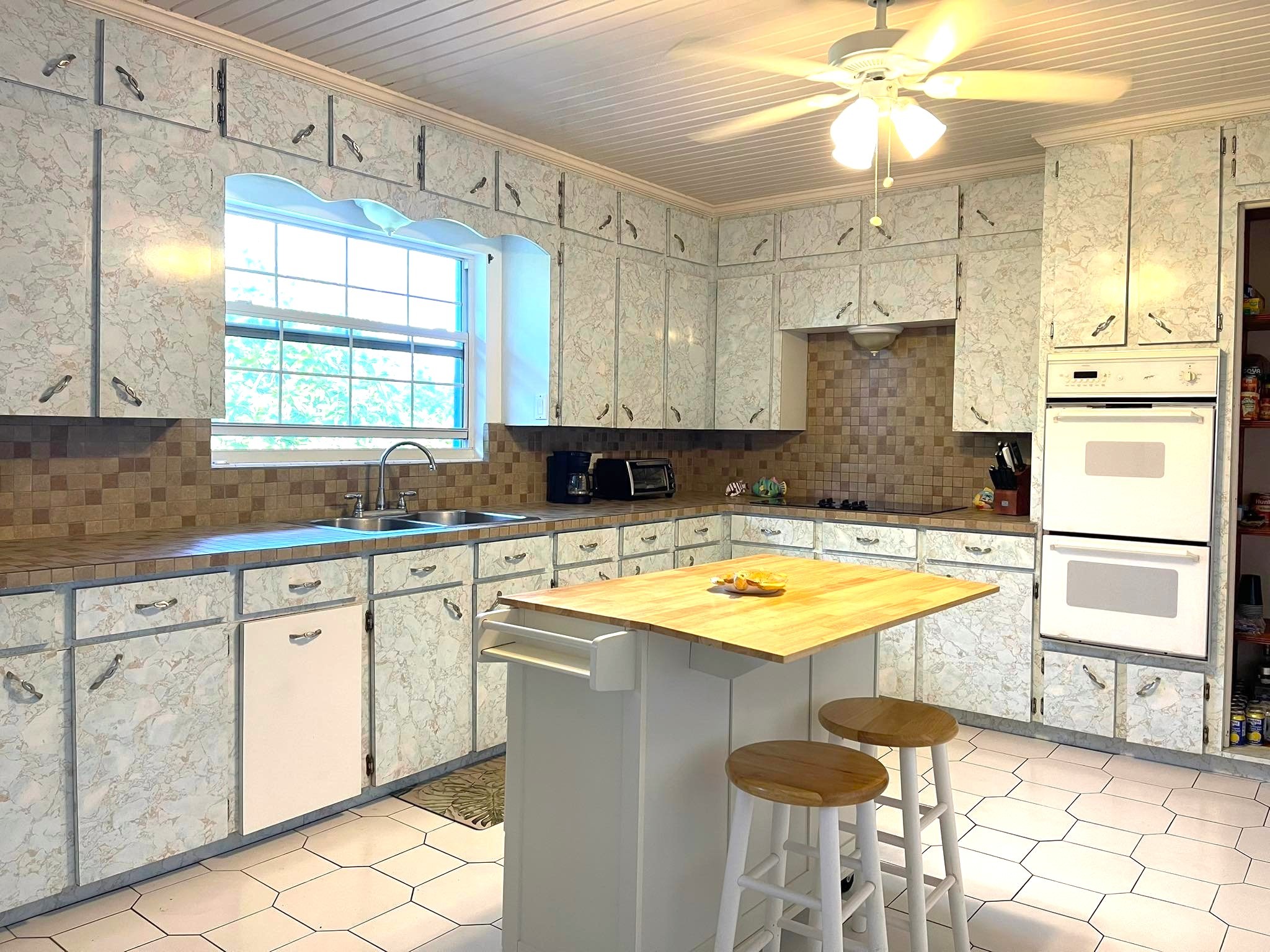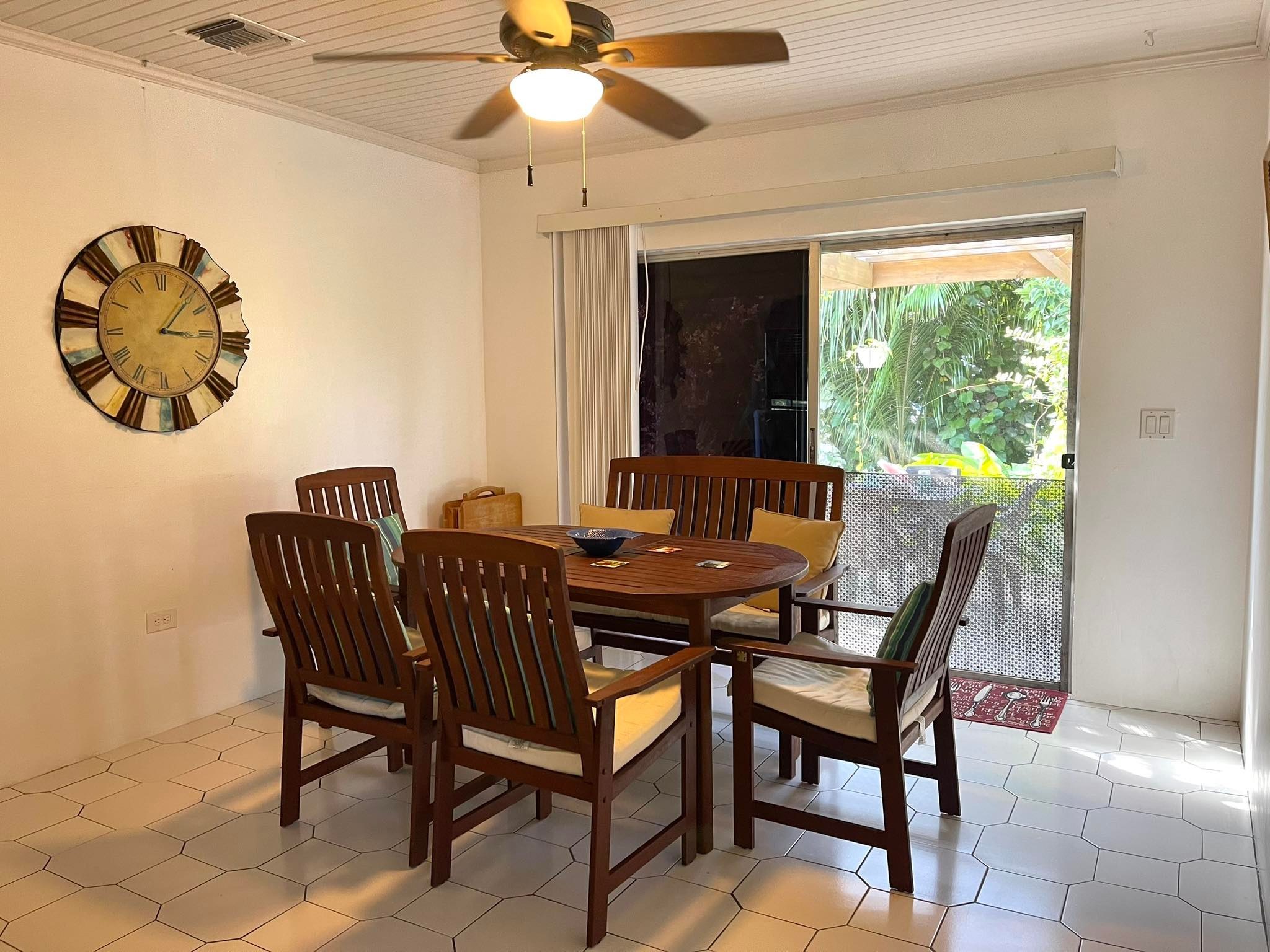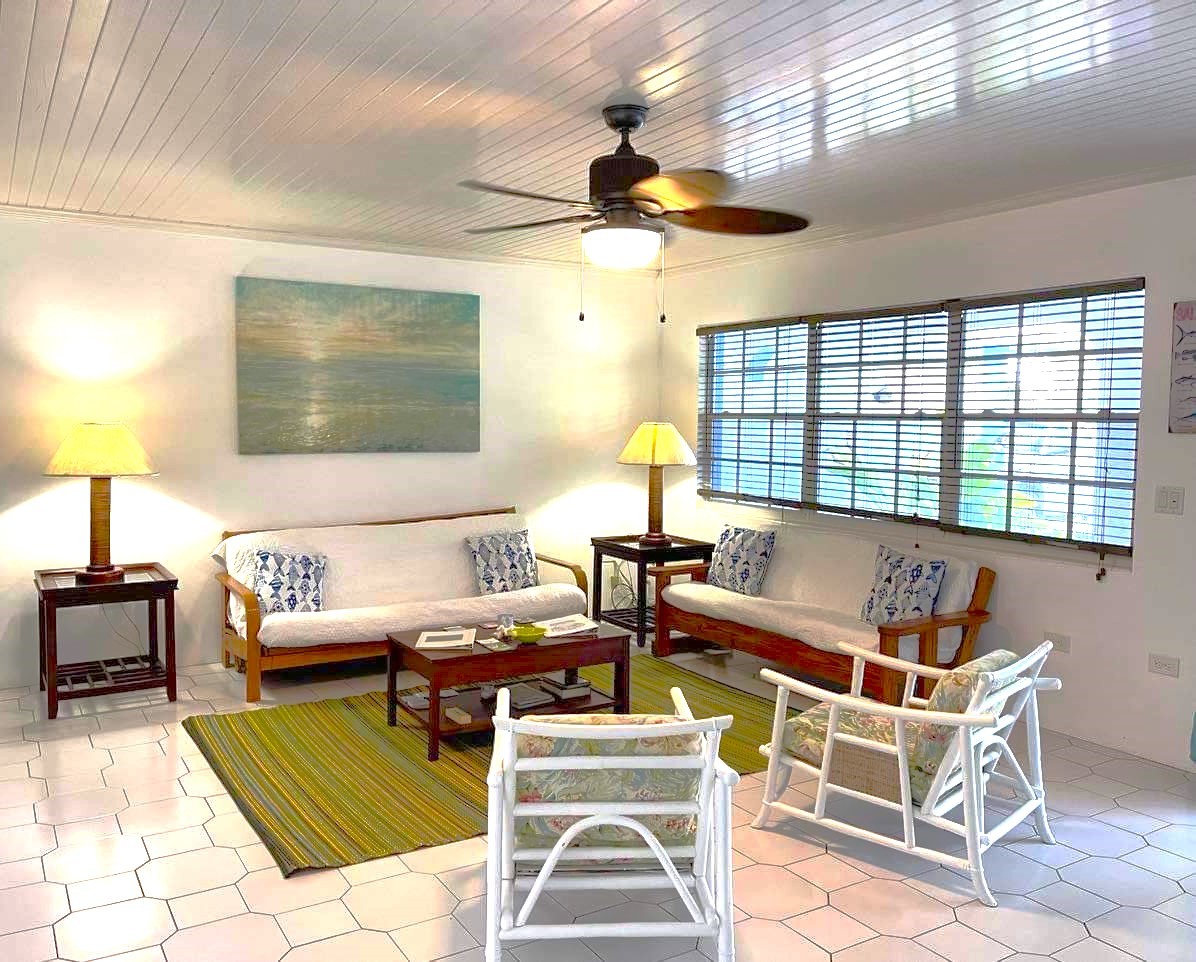 Lazy Lobster is a spacious traditional island villa that was recently renovated and offers new furnishings and appliances. This large, charming, old Bahamian-style island villa offers a very roomy living room with French doors leading unto a covered front porch. The covered front porch connects to a one car garage. The spacious and fully equipped kitchen leads to the dining room and offers an expansive view of the beautiful tropical garden and the outdoor living space.
Lazy Lobster offers a master suite with a very large master bedroom, an ensuite private bathroom, and a spacious cedar lined walk-in closet. There are also two more bedrooms that share another roomy bathroom. The outdoor living space in the back garden offers a lanai for outdoor dining in the shade, a private sun deck, which is a great place do a little sun tanning if you choose, and a covered porch area, a nice area to relax and read a book.
Lazy Lobster is located in the quaint and charming settlement of Spanish Wells Eleuthera Bahamas, and is perched on the crest of a gently sloping hill. The beautiful garden at Lazy Lobster offers tropical plants in a rainbow of colors, a delight to the eyes. Lazy Lobster is located in a very quiet neighborhood in the middle of the historic settlement of Spanish Wells Eleuthera Bahamas. An easy breezy 45-second golf cart ride from Lazy Lobster to the north will take you to an unspoiled and uncrowded light pinkish sandy beach!
Since Lazy Lobster is located on the crest of a gentle sloping hill, there is a seldom a day without balmy breezes, which means the villa is very comfortable most days throughout the year, enjoying open windows, paddle fans, and the fresh air. There is also a new electricity efficient central air conditioning system throughout the house.
This home offers three sources of water: municipal water supply, a rainwater cistern, and excellent well water.
Spanish Wells is the fishing capital of the Bahamas, so there are all kinds of fresh seafood available. There are eight restaurants or take aways, 3 full liquor stores, 3 grocery stores, and five variety stores that sell local goods, souvenirs, and more within 1mile of Lazy Lobster. There are also home bakeries for fresh baked goods each day, coffee and pastry cafes, and even homemade fresh ice cream, daiquiris, and smoothies available nearby. Spanish Wells is reminiscent of an idyllic Cape Cod fishing village with swaying coconut palm trees and bright bougainvillea as background. Winding little roads lead a visitor around brightly painted cottages sporting gables and wooden shutters. One can walkaround the island, wade for sand dollars on the north beach, purchase the fresh catch of the day from local fishermen, and browse the centuries-old village. Spanish Wells offers one of the most beautiful beaches in the Bahamas and is considered the fishing capital of The Bahamas. The waters surrounding Spanish Wells offer excellent snorkeling, diving, bone fishing, reef fishing, and deep-sea fishing. Spanish Wells is a boater's and fisherman's paradise. Spanish Wells is considered by many to be the most prosperous, clean, pristine, and safe community in The Bahamas.